Adult Coloring Books may be more popular than ever, but the art of coloring is timeless – it's not only fun, but it's a great way to relax, and is touted as the next best thing to actual meditation. In that spirit, we've published our very own Conscious Creation Coloring Book!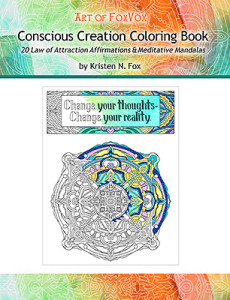 The Conscious Creation Coloring Book features 20 hand-lettered affirmations about conscious reality creation and the law of attraction, and 20 intricate mandalas to color while meditating on the various concepts. And each mandala is followed by a lined page (with a border to color), where you can write insights and inspirations as they come to you!
Color the Conscious Creation designs as a way to relax and release stress, as an artful way to meditate, or as a method to explore ideas and perhaps discover something new, while having fun!
All of these original designs were hand-drawn with a stylus and a drawing tablet. Each page is one-sided.
Click here to see a sample page of the Conscious Creation Coloring Book you can print on your printer to color.  
---
For related info, check out our blog post announcing the Conscious Creation coloring book, with links to all available coloring books.